Recontouring is a process of changing the shape of teeth to improve their overall appearance. When teeth are slightly crowded or uneven or appear too long, small ajustments can be made to correct these flaws. Recontouring involves modifying the teeth by removing some enamel to create harmony and balance in the mouth. This process has limitations and can only be used for minor modifications. Recontouring is often combined with bonding for more involved modifications of teeth.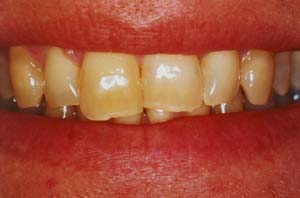 There is a lack of symmetry and harmony
in this patient's smile before treatment.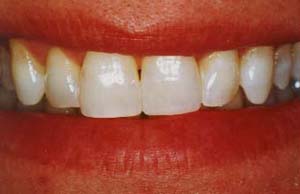 These teeth were reshaped by recontouring,
achieving harmony between the teeth.
They were also bleached resulting in a
youthful and bright smile.