The Bleaching Process
Take home bleaching:
1. During your diagnostic visit impressions of your teeth will be made. These will be used to make custom gel holding bleaching trays.

2. On your second visit, you will be fitted with the trays and be given the bleaching gel and be instructed on how to administer it and how often to wear your trays.

3. Follow the take home directions carefully, continuing to maintain proper oral hygiene through brushing and flossing. Maximum esthetic results will be obtained in most cases in two to three weeks.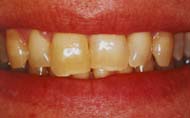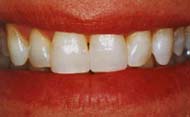 A more youthful and brighter smile is the result following bleaching. These teeth were also recontoured.


In office bleaching:
1. A light is used to activate the whitening gel.

2. All the soft tissues in and around the mouth are protected prior to applying the light to the teeth.

3. Three fifteen minute applications of gel are applied to the teeth.

4. Custom fitted bleaching trays and gel are provided for periodic touch up bleaching.